Top Down Tire Mounter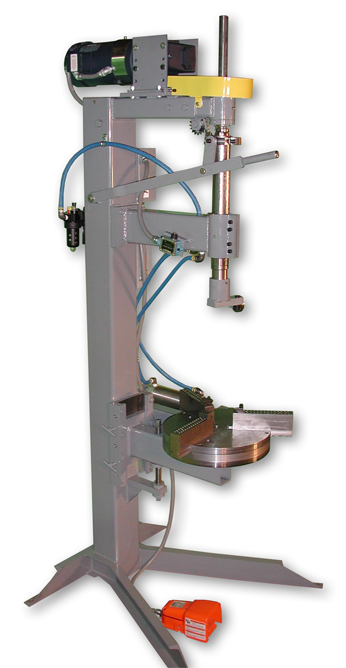 Specifications include labor and material to produce this machine with a range of 6" to 17.5" diameter. This machine accepts Mounting Arm sizes 6" through 17.5".
Contact us at tire.equip@steinertindustries.com for estimates and more information.
20" Depth from Back Post to Center of Spindle
Gear Box 40-1 Output @ 28 RPM
1 HP Motor 3 Ph TEFC 220-480 Volts
A/B Motor Starter with Heaters
Higher Torque Motor Brake
Foot Pedal Switch
Lower Chuck for 6" to 17.5" Tires
Auto Micro Switches
Transformer - 480 to 110 Volts
2 Position 4-Way Air Valves for Chuck
Lower Chuck actuated by a Bimba Cylinder
All Wiring
1 Coat - Finish Paint - Grey
Parts List
TOTAL: $36,200.00
Delivery: 8 to 10 weeks from receipt of Purchase Order. Crating: Completely crated on a skid - $900 Shipping: To be determined Terms: 50% with Purchase Order, Balance Net 30 Days after shipping
Arms
Arms are available from 6" to 17.5" lengths. Please choose the size to fit your need.
| Size | Each |
| --- | --- |
| 6" Arm | $440.00 |
| 8" Arm | $440.00 |
| 10" Arm | $440.00 |
| 12" Arm | $440.00 |
| 13" Arm | $440.00 |
| 14" Arm | $440.00 |
| 15" Arm | $440.00 |
| 16" Arm | $440.00 |
| 16" Dual Arm | $440.00 |
| 17.5" Arm | $460.00 |
| 17.5" Dual Arm | $460.00 |
Delivery: 3 to 4 weeks from receipt of Purchase Order. Shipping: Will be added to the invoice. Terms: 50% with Purchase Order, Balance Net 30 Days